Build a bigger, more profitable MLM Business
Free Mobile-Friendly CRM
For MLM Professionals
Manage your network marketing business from the palm of your hand, wherever you are, without any fuss.
Get Started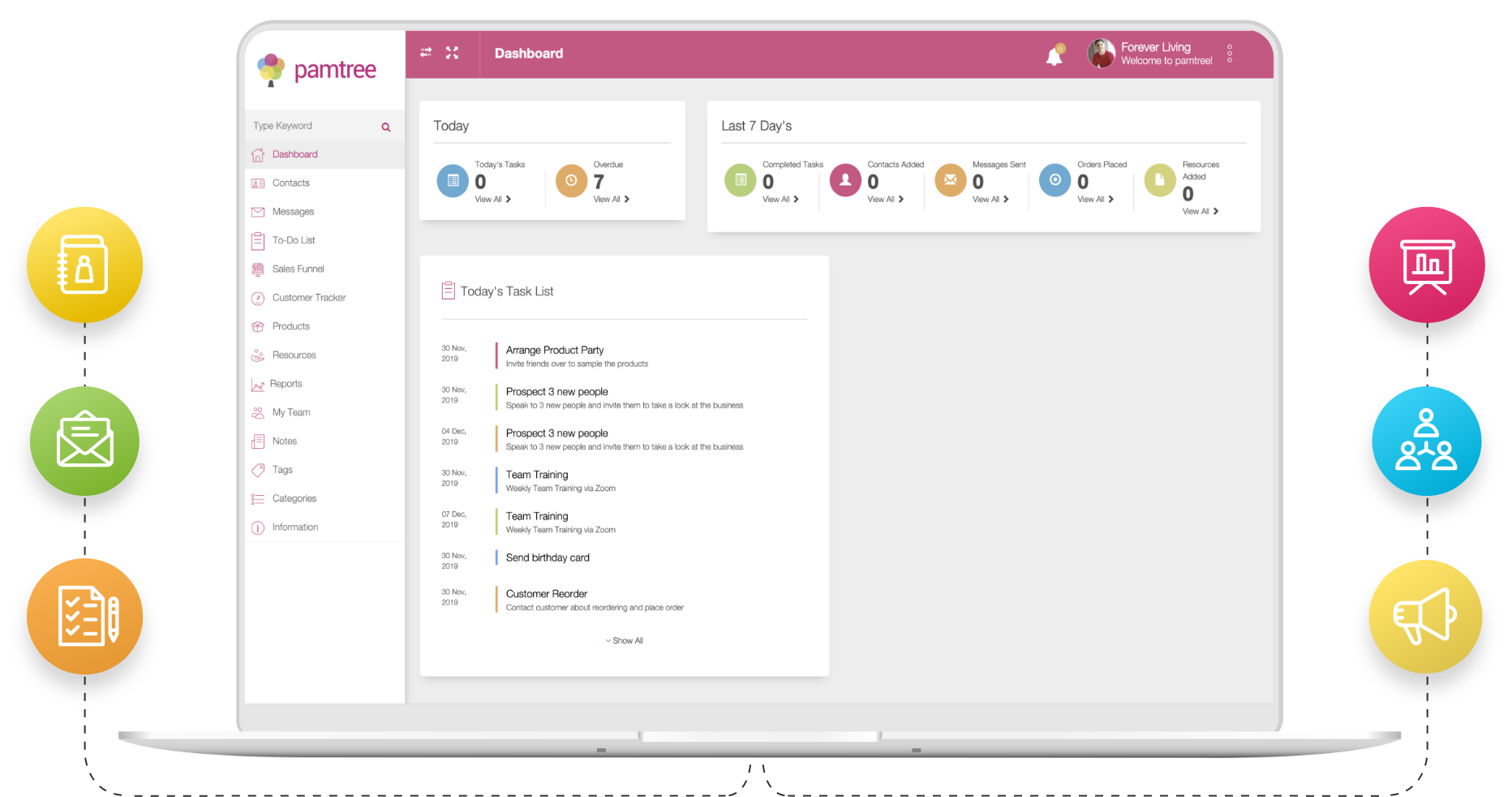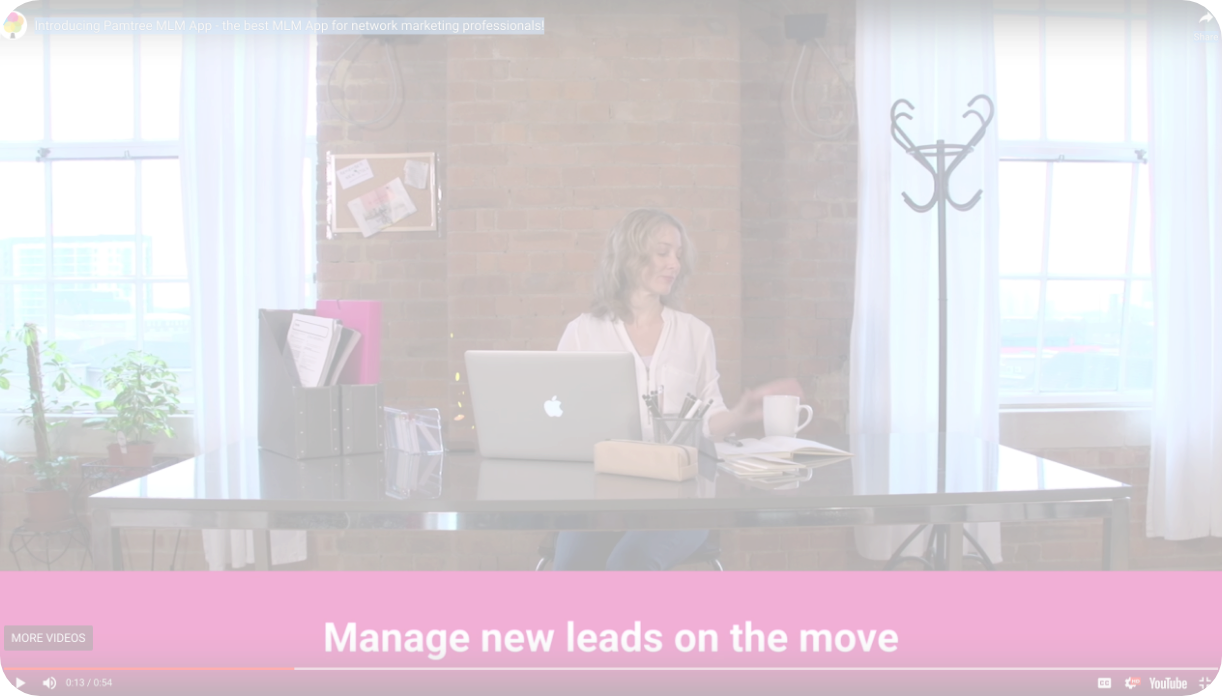 About Pamtree
Pamtree can boost your business
Pamtree is a free business platform and MLM CRM, created just for network marketing professionals.
Instead of lugging a heavy binder around or spending countless hours chained to your desk, you can start using our simple CRM and see what it really means to work 'flexibly'.
See all features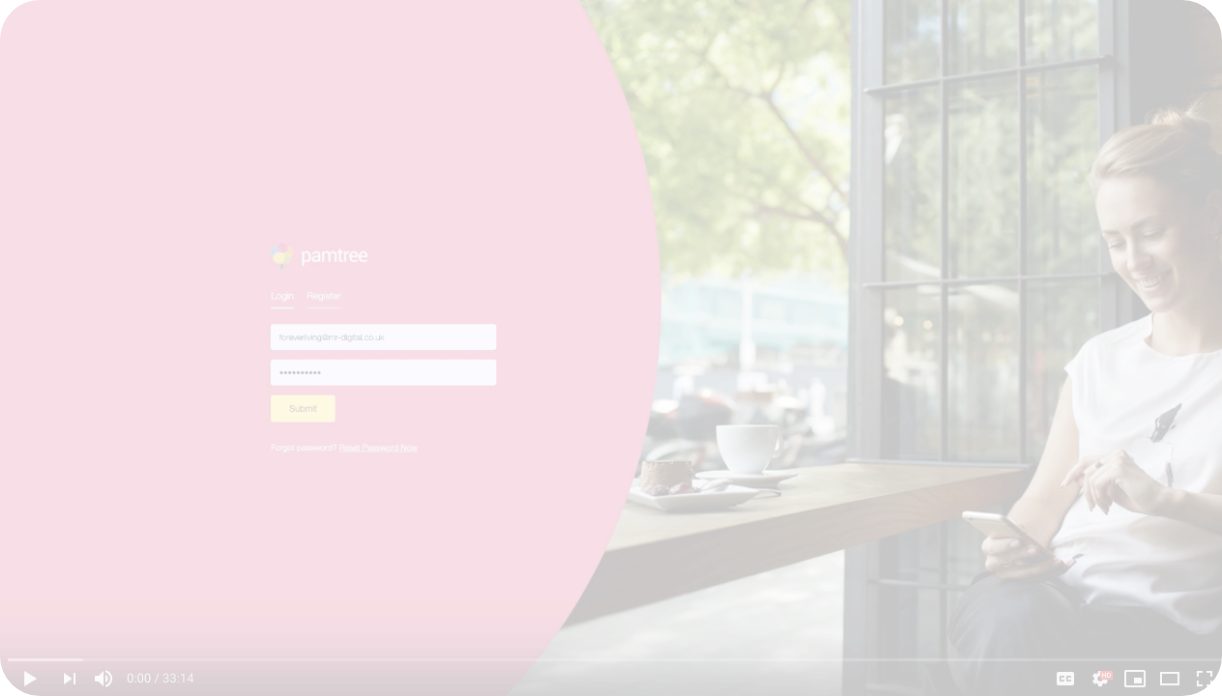 Watch a Demo
See Pamtree in Action!
Watch our 30-min demo video to discover how your business can benefit from Pamtree.
If you're looking to take your MLM business to the next level and want a CRM to support you, check out this demo video now!
See all features
Onboarding Process
Getting Started With Pamtree
Check What Network Marketers Are Saying
"This is a great app that helps me manage my forever business on the go. Now I really can make the spare 5 mins I have here and there count! So much easier having the product info, customer orders and all my contact info in one place. I don't think I could run my business without it now."
"This is a great app that helps me manage my forever business on the go. Now I really can make the spare 5 mins I have here and there count! So much easier having the product info, customer orders and all my contact info in one place. I don't think I could run my business without it now."
Our Team
Meet The Founders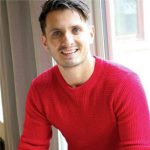 Ross is a digital marketing specialist with more than 10 years' experience developing online marketing campaigns that generate millions of pounds. Having run his own network marketing business in the past, Ross is familiar with the industry and the challenges business owners face, which is why he decided to develop a platform and mobile app that will help distributors save time and build bigger, more successful businesses.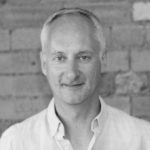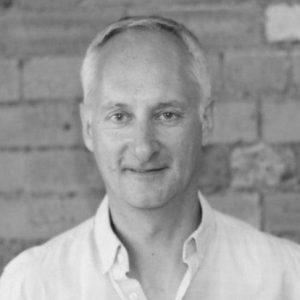 Fraser brings a wealth of general business experience to Pamtree from a diverse range of business sectors. He has worked in both industry and private equity, and held Board seats on many large, international businesses including EMI Music, Meridien Hotels and Resorts, William Hill and Vonovia. Fraser has co-founded and supported a number of start-ups, including a video production company and a restaurant business. He is excited to now be focussed on the needs of the dynamic MLM sector.
Create dashboards & stay in control
Build and customize your dashboards to gain important insights and a clear overview of your work.
Get Started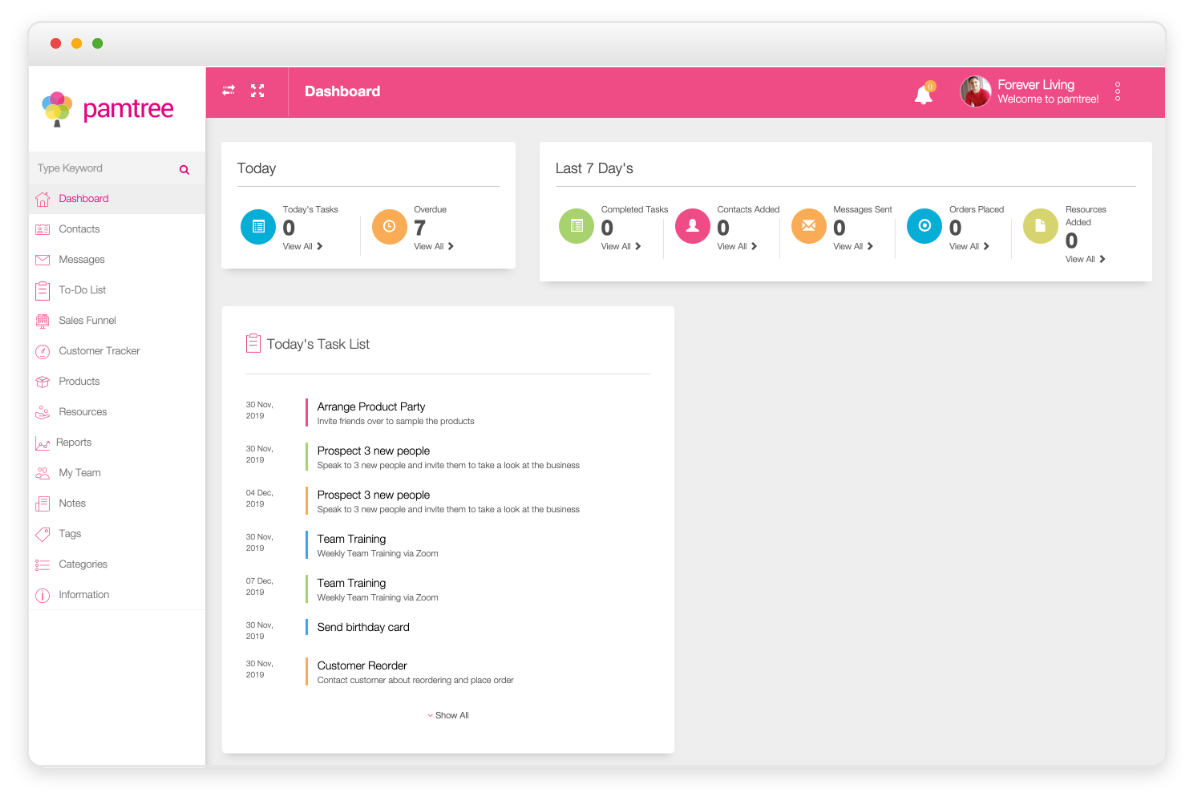 Business Features
How Pamtree Works
Check out Pamtree's features below to see how your MLM business can benefit from our network marketing designed platform and CRM.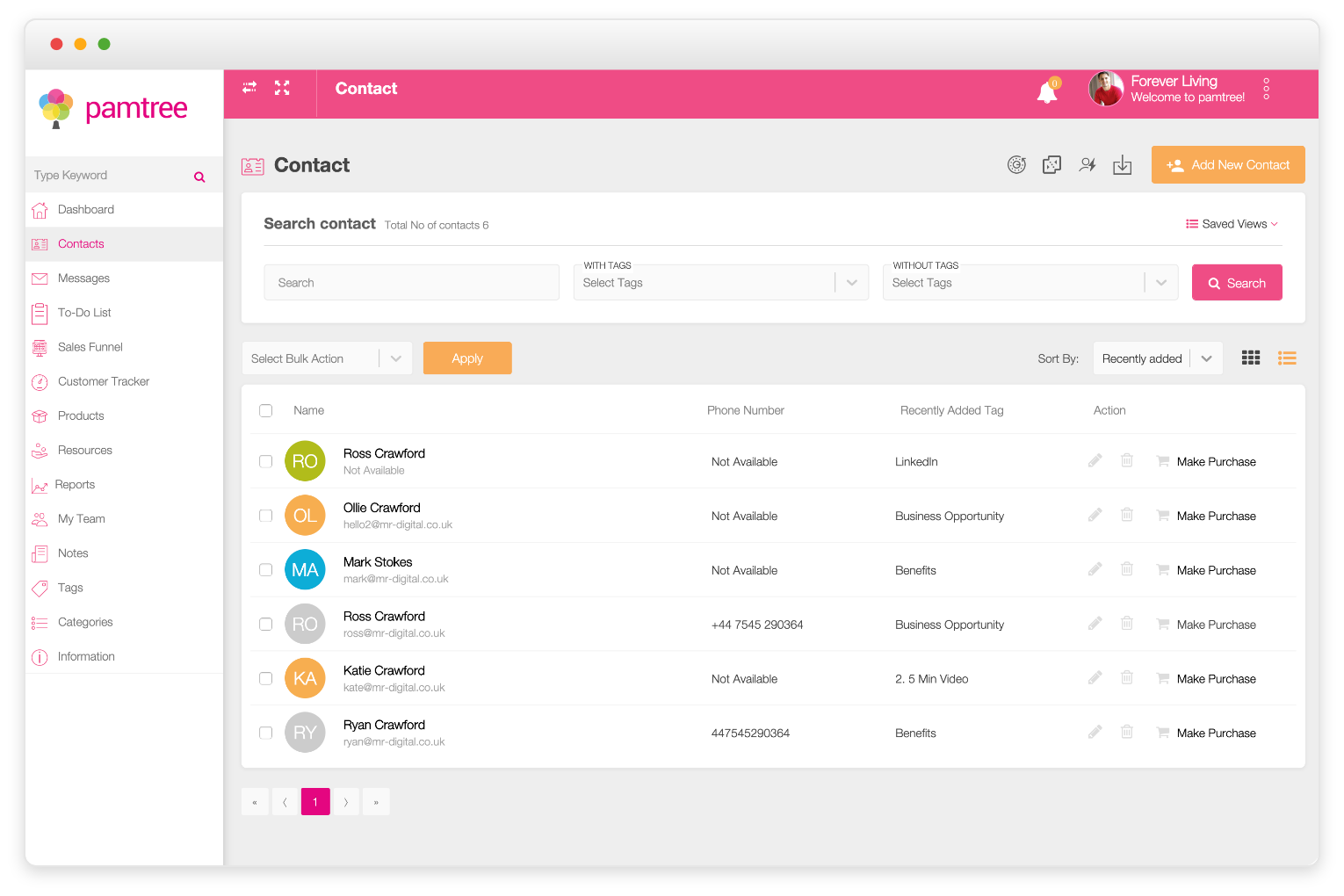 Contact Management
Much more than just a list of contacts, Pamtree will show you exactly where each person is in the prospecting process. It shows you who you've sent samples to, which customers have been buying, and who needs a follow-up.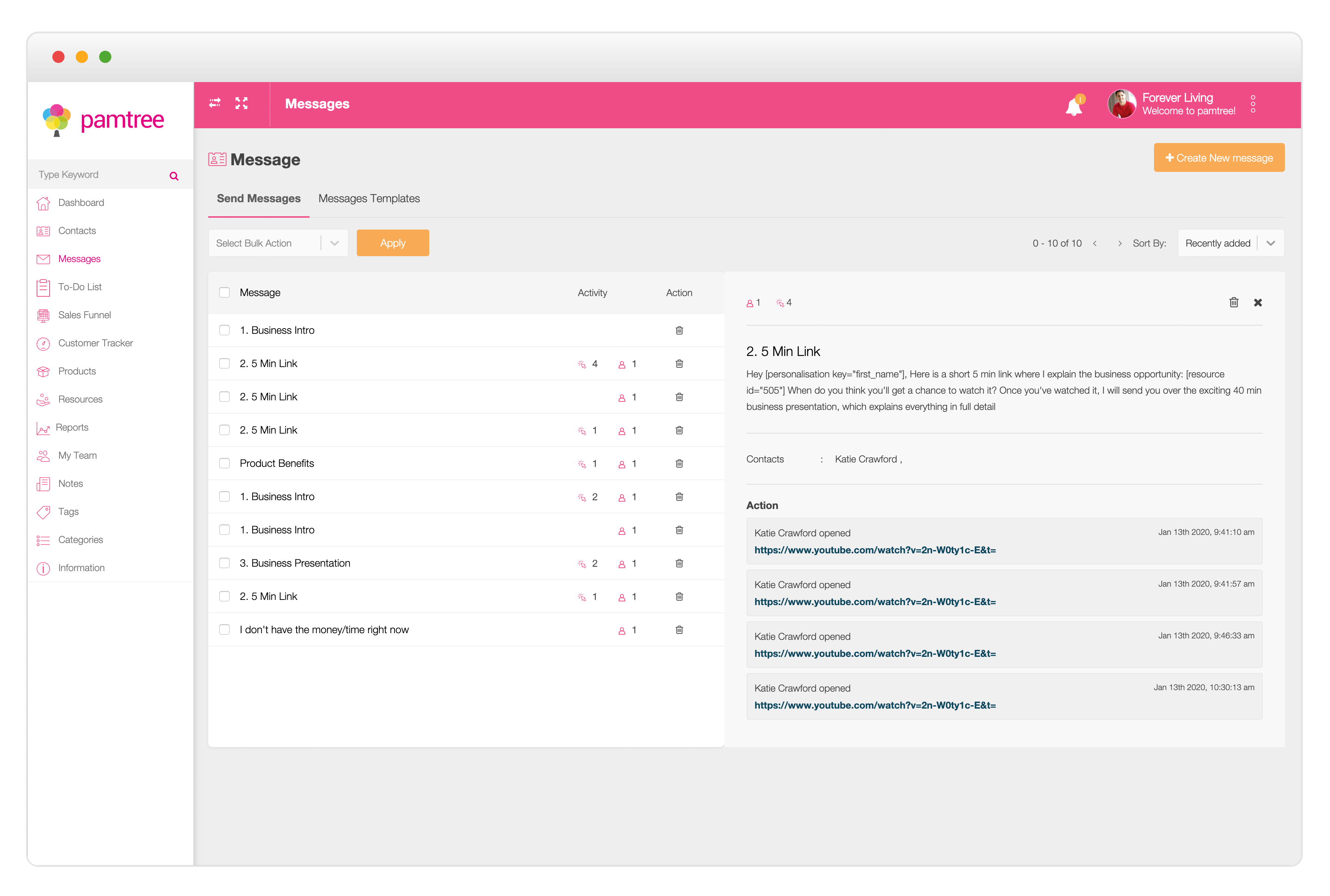 Trackable Messages
Communication is a huge part of business, but it shouldn't take all day! Pamtree lets you create message templates, so you can easily send compliant, 'best practice' messages. Quickly search your business messaging history and even receive notifications when someone clicks on your links, so you can follow-up more efficiently, increasing the effectiveness of your follow up!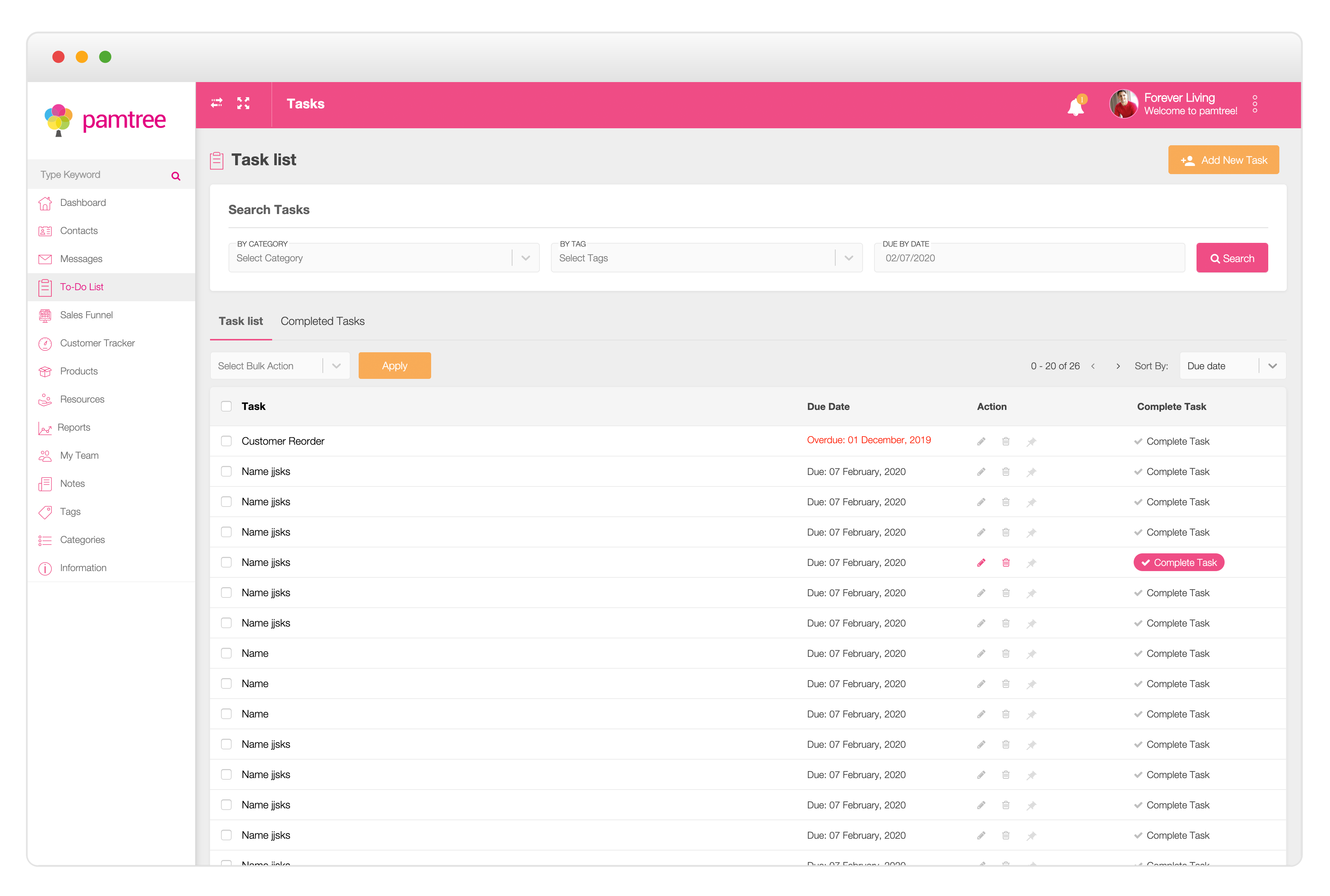 To-Do List
Task lists might sound old-fashioned, but they get the job done! Upgrade your paper task list by making one on Pamtree, instead. Work smarter and never forget a thing by prioritising tasks and keeping track of outstanding or completed jobs, all from our app!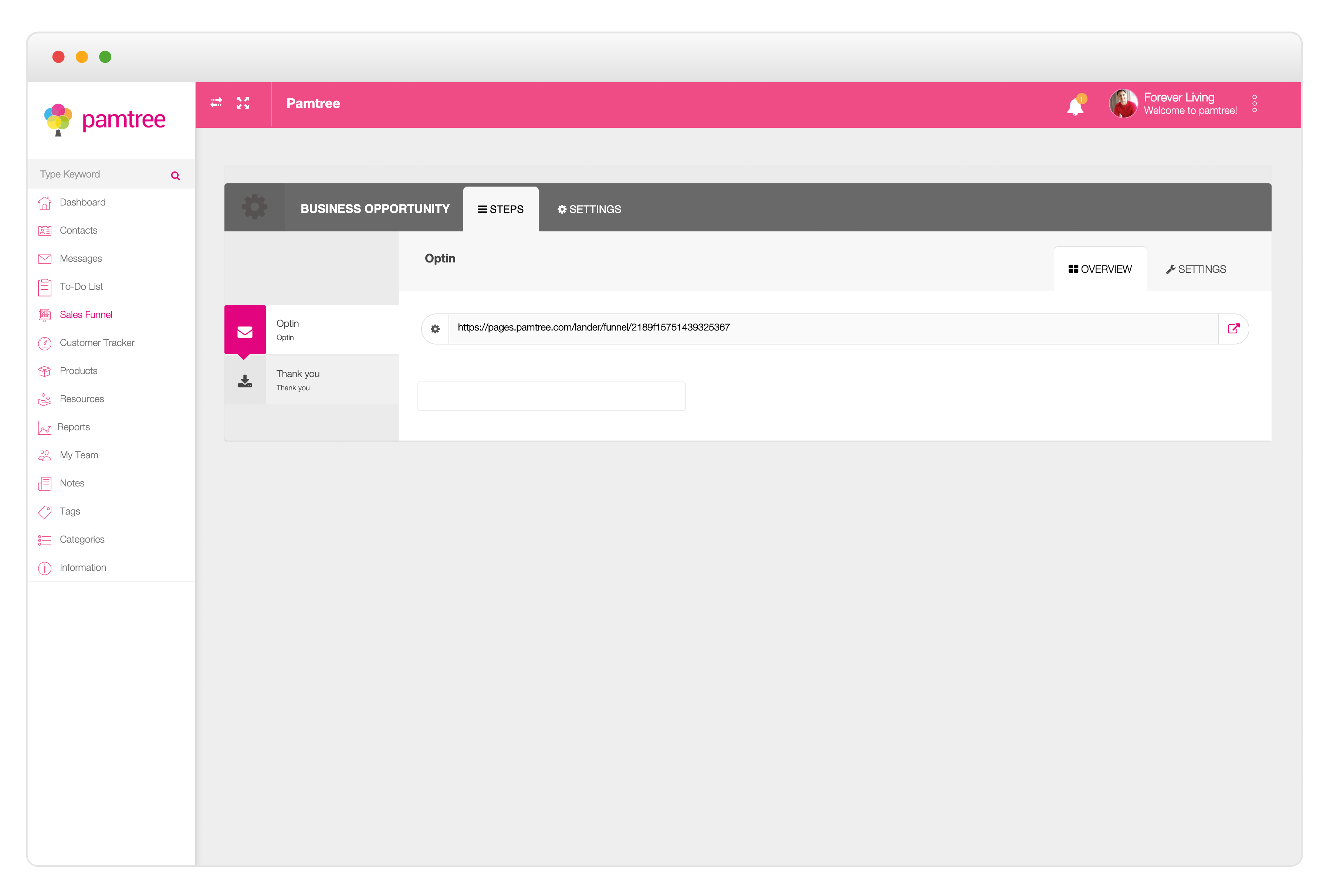 Sales Funnels
Easily create personalised landing pages to use in your marketing activity so you can attract prospects and have them complete forms that put their contacts details directly into your Pamtree account.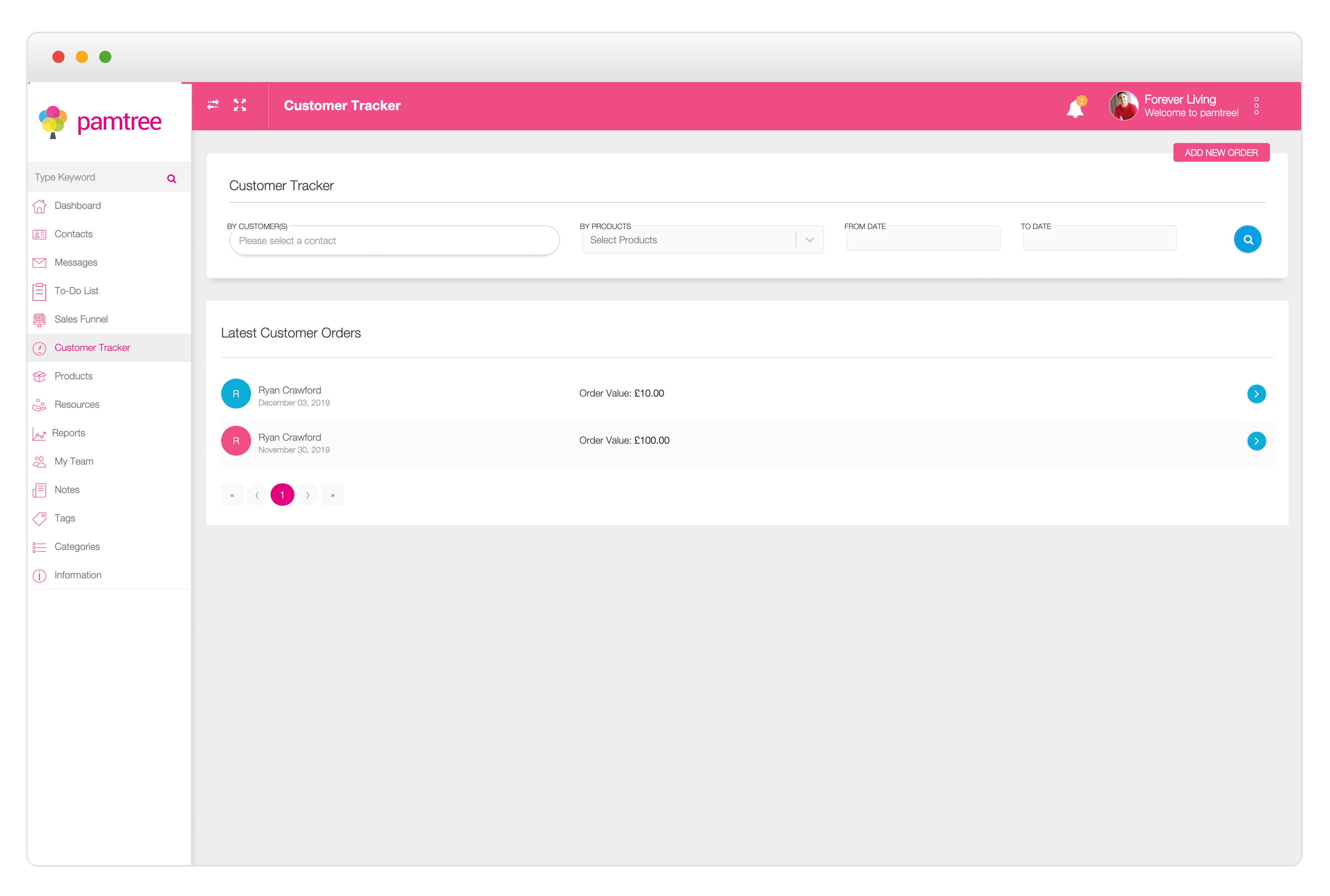 Customer Tracker
Keeping an eye on all your customers is easier than it sounds. Pamtree reveals purchasing behaviour and analyses ordering history, so you can take steps to get more sales. Take fast follow-up action on lapsed customers and even flag actions on late ordering, to prevent revenue drop-off before it happens.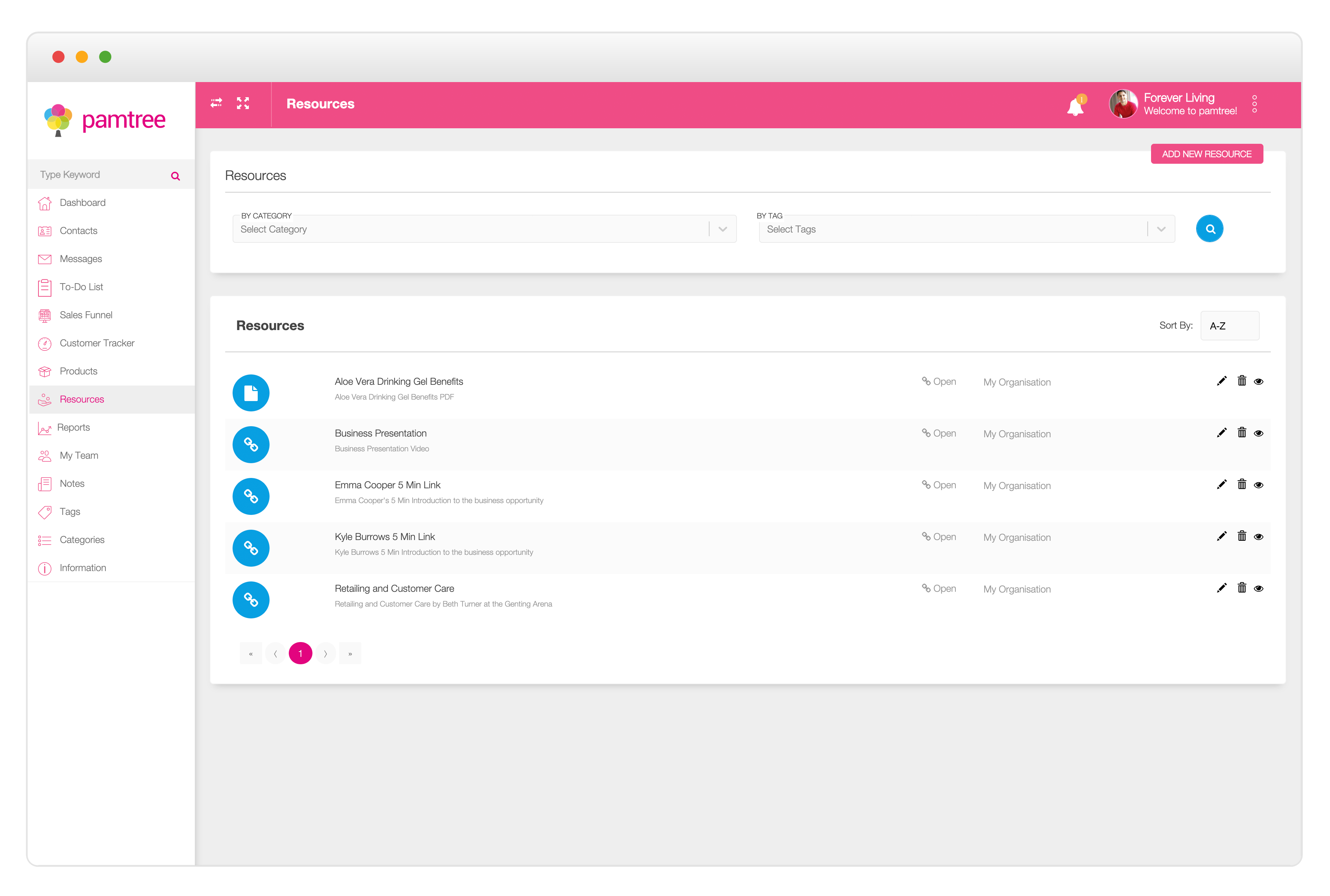 Resource Management
Keeping an entire team on the same page and fully trained is simple with the Pamtree app. You can use it to upload training videos, marketing materials, and useful information which can be accessed by anyone, anytime, anywhere.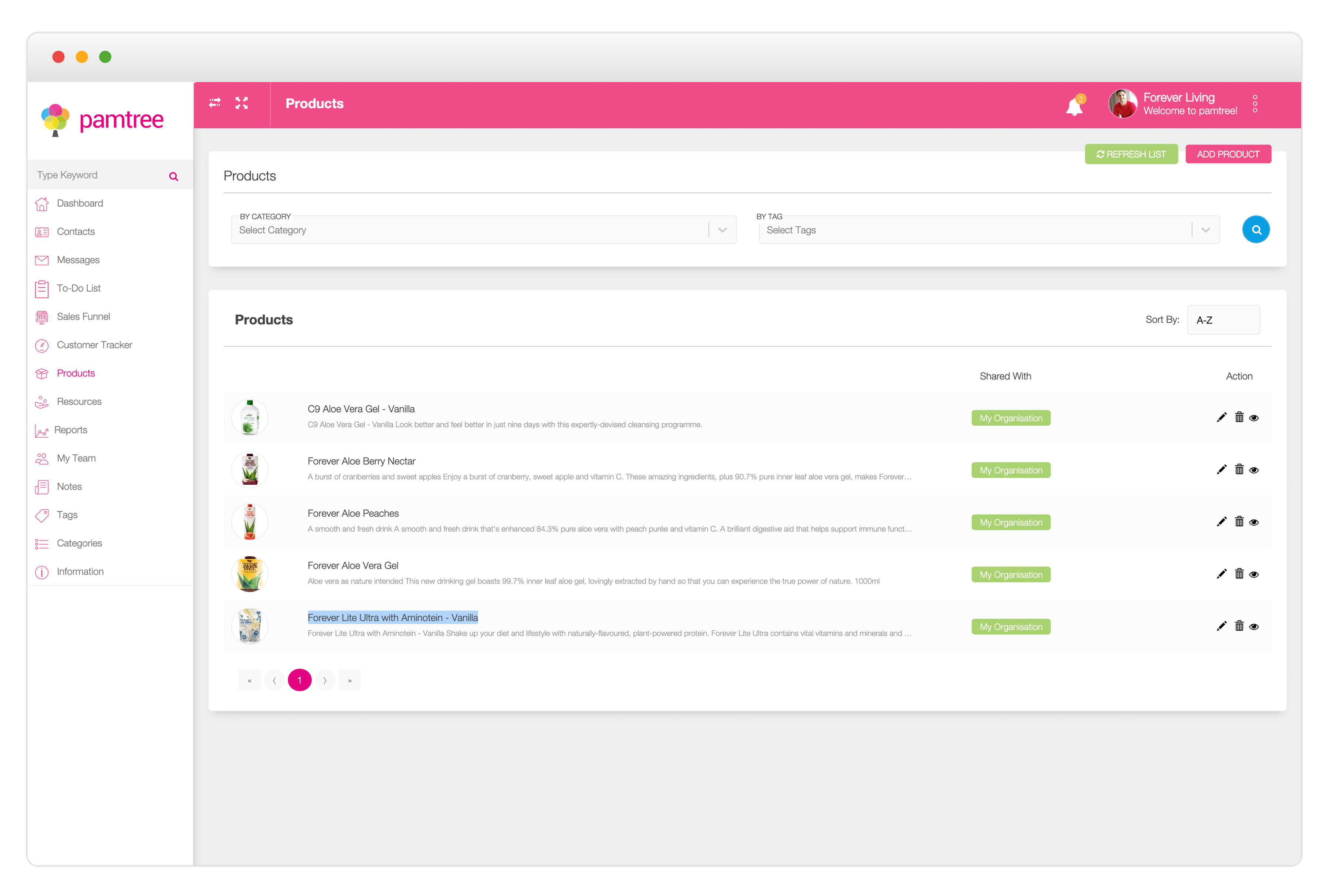 Product Catalogue
What if you could carry a product brochure around with you at all times? Now you can! Pamtree lets you update product information and filter inventory, so you can quickly pull out the best products for your customers' needs.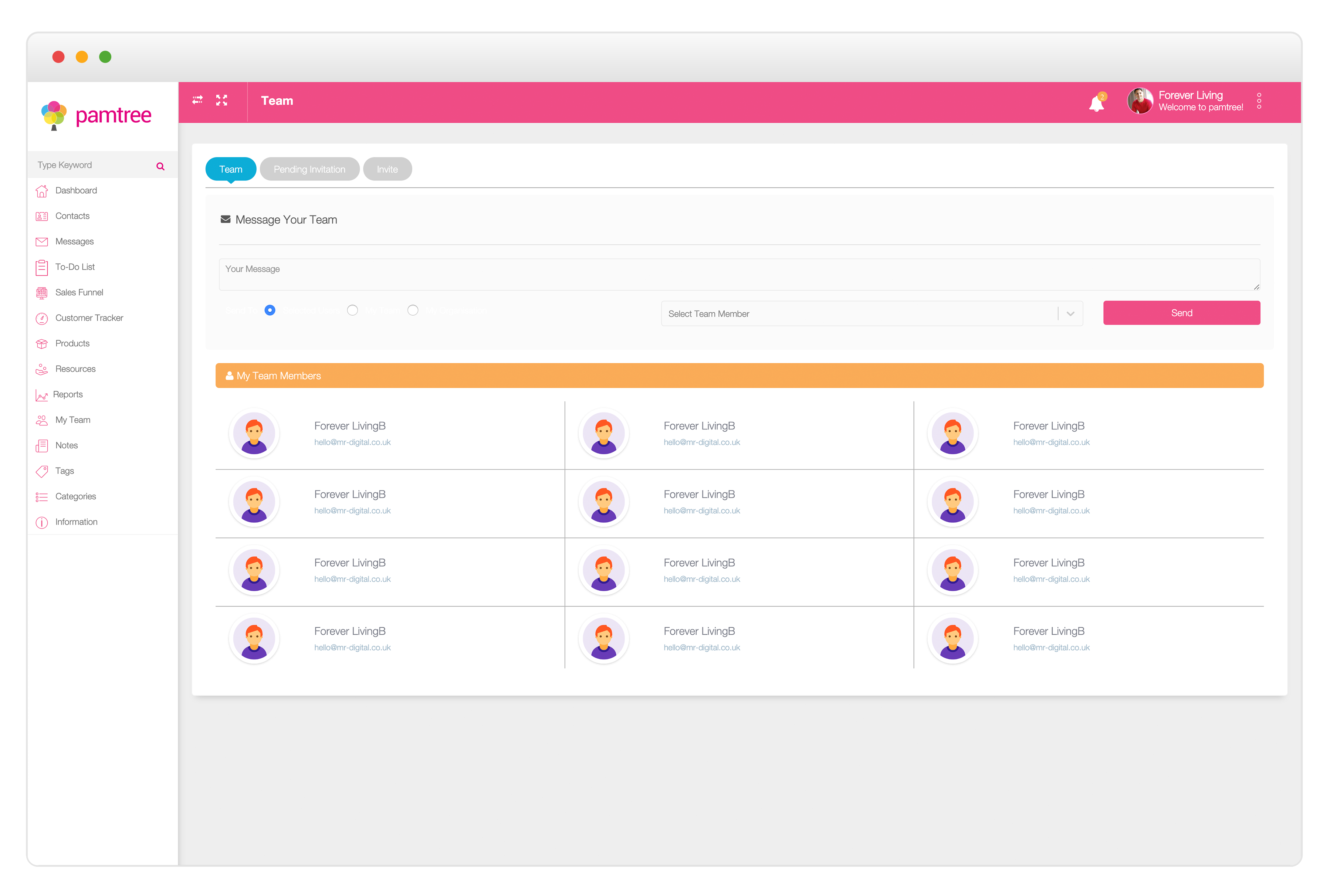 Manage Your Team
Invite your team to Pamtree and easily coach your business owners to success using this revolutionary platform.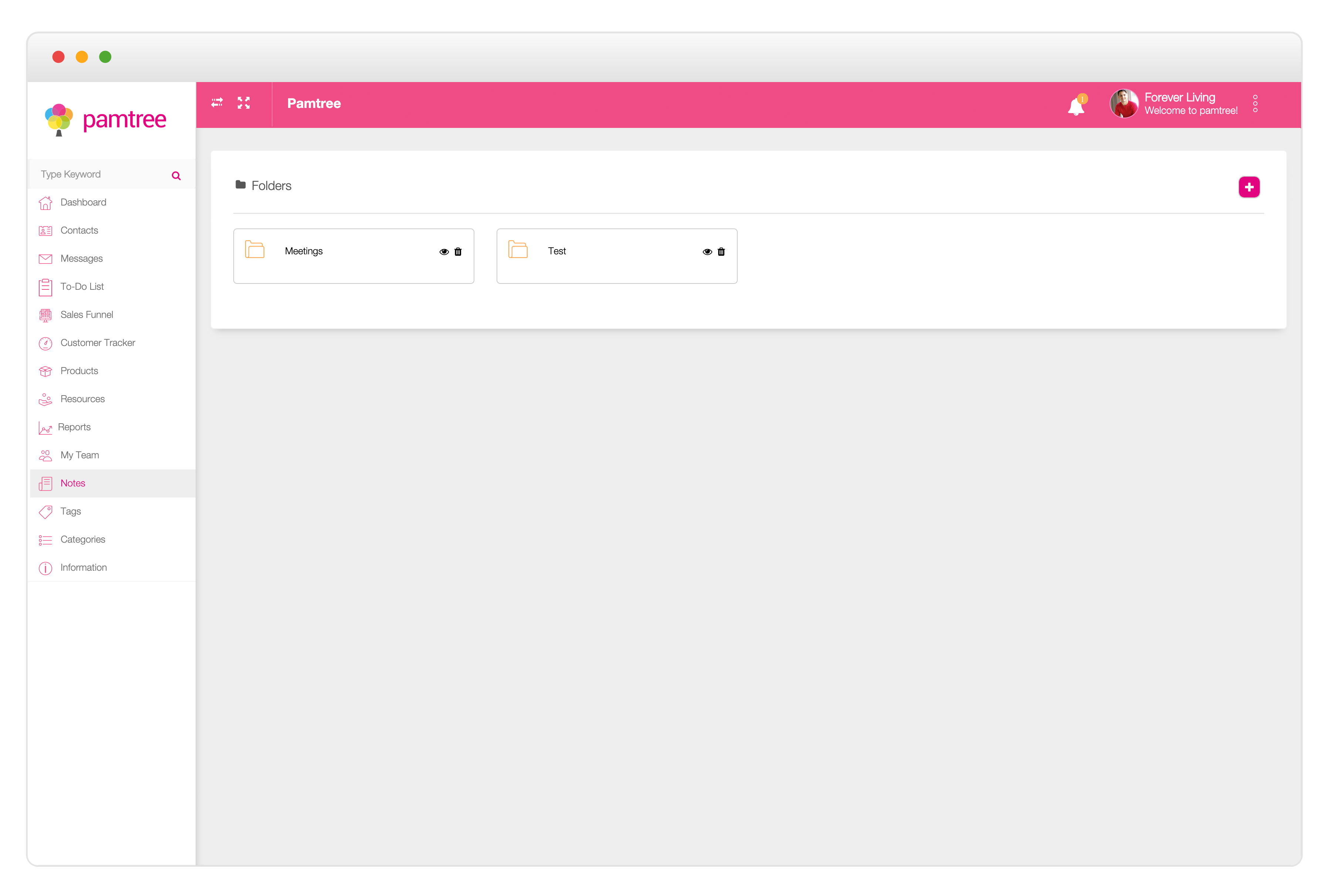 Notes
Write notes and attach them to your contacts so you never lose track of anything and keep everything nicely organised.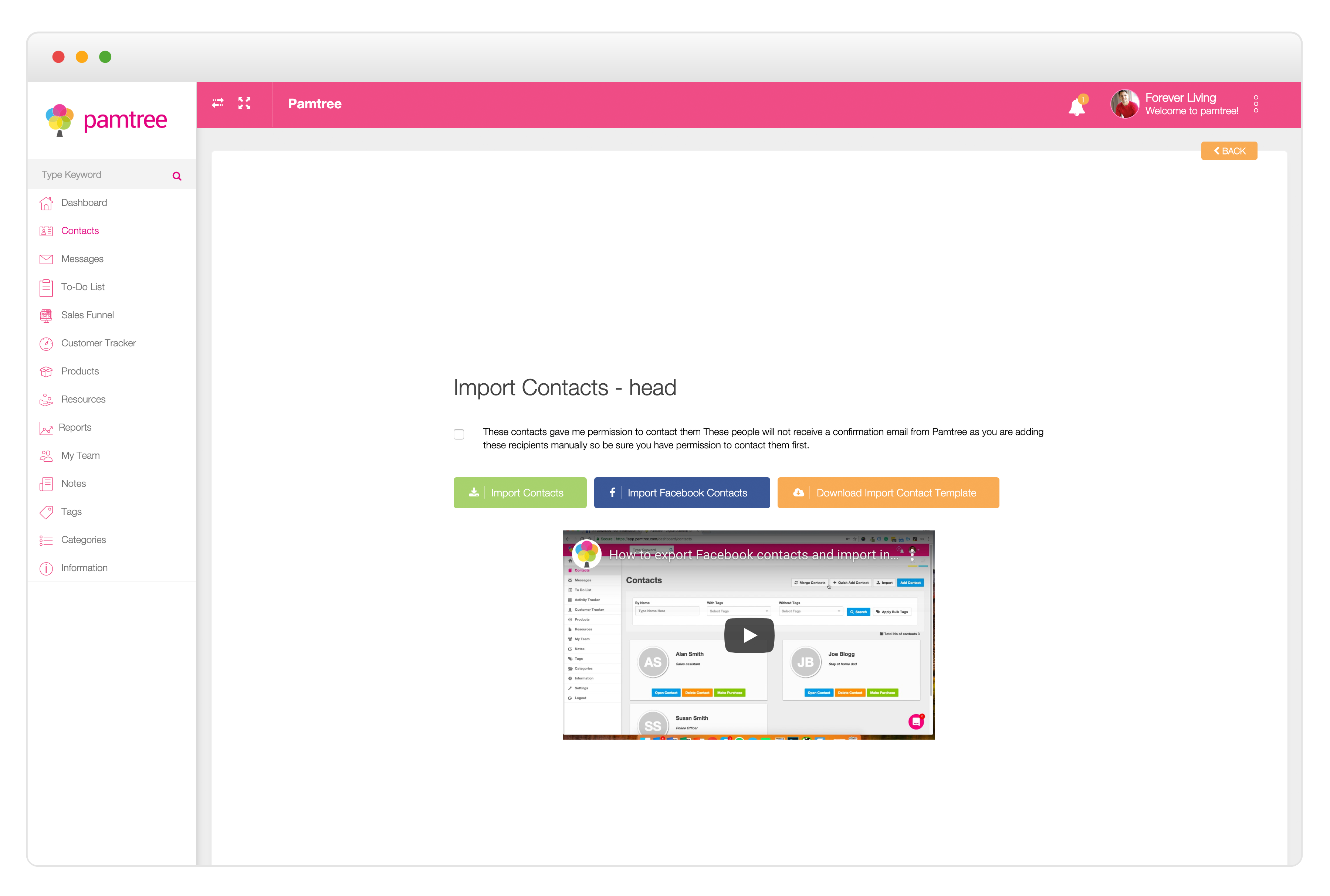 Quick Add From Social Media
Easily add new contacts from Facebook, Instagram and LinkedIn.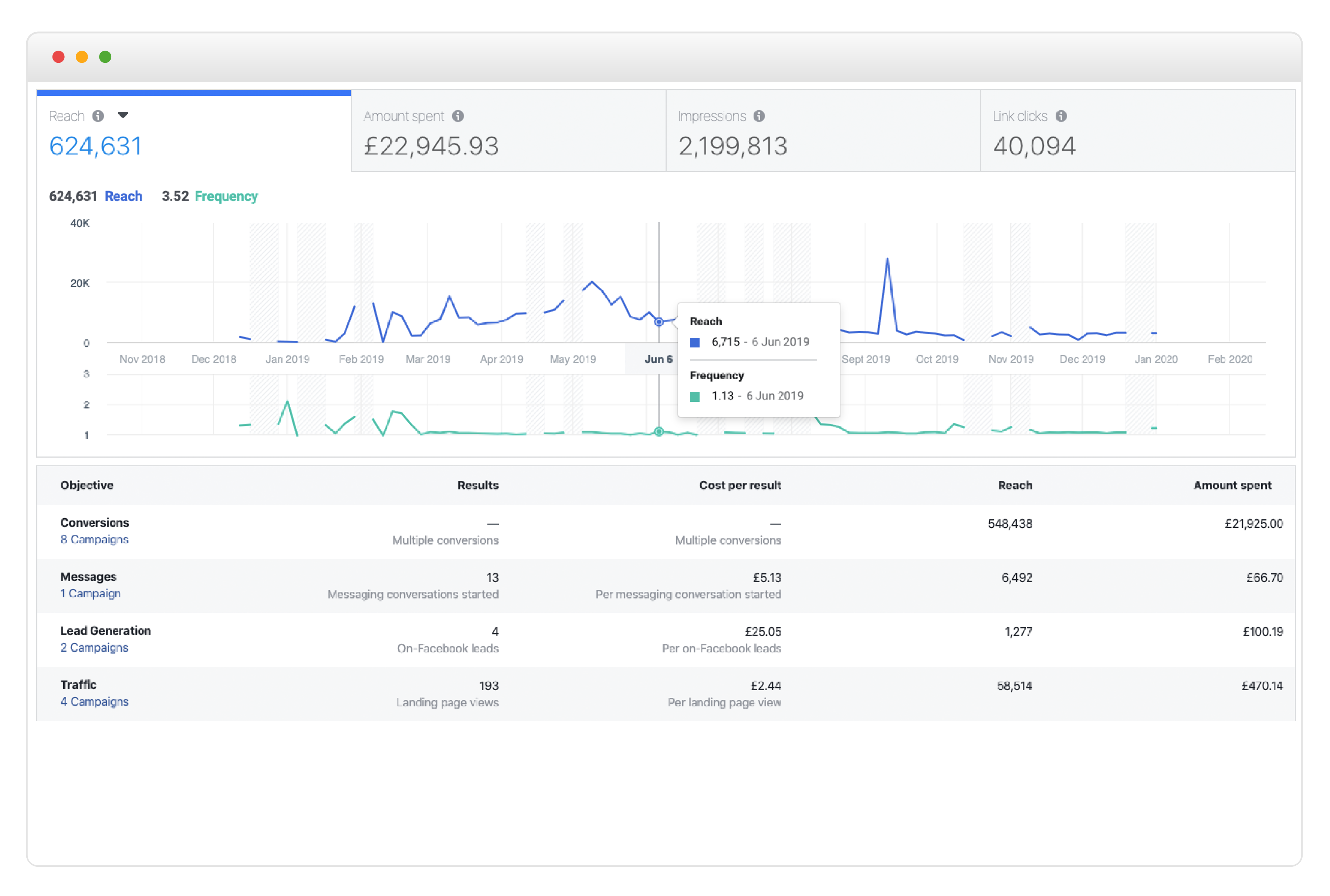 Ad Tracking
Make sure your advertising is working for you by tracking your Facebook and Google Ads.
Pricing Plan
No more hidden charges applied! Choose your plan
Standard
FREEFREE
Per Month
No credit card details required

Easily Import & Manage Your Contacts
Create A To-do List & Set Reminders For Important Tasks
Track Completed Tasks & Activites
Send Team Messages
Create Notes & Assign Them To Contacts
Business
£15$17.50
Per Month
7 day FREE trial

Incuding All Features of STANDARD Plan
Send Trackable Prospect Messages
Track Customer Orders
Store Training & Marketing Resources
Manage Digital Product Brochure
Share Templates, Resources & Products With Your Team
Professional
£44$49
Per Month
Most Popular

Including All Features of STANDARD & BUSINESS Plans
Sales Funnels
Ad Tracking
Custom Reporting (coming soon)
Any Questions?
Frequently Asked Questions
1. What makes Pamtree different to other systems?
Pamtree is designed and built by ex-network marketers and had input from more than 400 business owners from over 50 different MLM companies. Pamtree is a platform and MLM app designed specifically for the network marketing industry and we have teamed up with expert digital marketers to create an app with a range of features designed to help each MLM business owner grow bigger, faster.
2. How do I setup Pamtree to use with my team?
We offer a free online workshop for teams where we work with teams on an individual basis to ensure Pamtree is set up effectively for you and your teams, so you can use you proven processes and roll them out through this technology platform.
3. Are there any limitations to the Standard (Free) version?
There are no restrictions to any of the features in the Standard subscription. The Business and Professional subscriptions offer extended features and functionality that will further benefit network marketing professionals
1. Can I invite my team to use Pamtree for free?
Yes, you and your team can all use Pamtree for free, with our Standard subscription. However, we recommend the Business or Professional subscriptions for teams as they offer additional features specifically for teams, to help make them more efficient and grow faster together.
2. Can I export my data?
Yes, you can export your data at any time from within Pamtree.
3. Is my data secure?
Yes, your data is secure with Pamtree. Our database is hosted securely in the UK by a reliable cloud service provider to enhance data protection and business continuity.
We comply with the data protection laws, under GDPR, to ensure that all the data held by Pamtree is protected. Pamtree does not store any of our customers' payment card details.
1. What type of support is there for Pamtree users?
We offer online chat support as well as email and phone support, and we will run regular webinar trainings to help you and your team make the most out of the MLM business app.
1. Can I cancel at any time?
Yes, we don't tie any users in. We offer 3 subscriptions, including the Standard subscription, which is completely free to use, so if you find you are not using the Business or Professional features, then you can downgrade to the Standard subscription and use the MLM app for free. Alternatively, you can deactivate your account altogether should you wish to.
Contact Us
Don't hesitate to contact with us for any kind of information